Mostly holiday season starts from late November to mid-January when parties are scheduled. Families get together and travel plans sound everywhere. Some basic precautions should be considerable to ensure the Holiday season safety of your family and wishing injury free holiday season is dream of every one.  As holiday season is approaching soon, our wishes for our customers are be safe this holiday season. We suggest some tips to ensure holiday season safety. We encourage communities and families throughout the country to make safety a tradition.
Self-decorating practices
We believe on campaigns to educate the public how to avoid the electrical hazards and how they can adopt safe decorating practices . On individual basis many times people get electrical shock when they are engaged in self decorating practices. Make ensure that all the electrical appliances you are handling are in good working condition. It is critical that families should inspect holiday decorations and also follow the instructions to minimize the electrical shock and risk of fire.
Electrical safety
Holiday celebration is incomplete without decoration. For families and kids decoration is an integral part of celebration. Christmas trees, holiday lighting, seasonal décor, buying of holly these may be a part of holiday decorating plans. It does not matter which product you are using for decorating, main concern of holiday celebrations is be safe this holiday season.

It is estimated that holiday lights and decorative light with line voltage are involved in fires related to home and Christmas trees. Fire beginning with Christmas trees and holiday lighting results in civilian deaths, direct property damage and civilian injuries. We wish our customers be safe this holiday season.
Tool kits
We offer a toolkit which includes a tip sheet related to purchasing of holiday lights and along with it a checklist is also offered which determines that your holiday décor falls under nice and naught end of safety spectrum. Information is also available on cord safety, safety tips related to space heaters and tips on preparation of home for visitors are also available. Our additional offers highlight important safety devices including tamper resistant receptacles (TRRs) and Ground-fault circuit interrupters (GFCIs).
In addition, our other packages include safety reminders, feature tips to keep communities and families safe and secure during this season. We try to ensure be safe this holiday season. Our younger audiences are our integral part, through games and animated videos we reinforce holiday safety concept to kids.
We are trying well to create awareness among drivers and motorists. Drivers should abstain the use of electronic devices while driving and motorists should pay more attention during distracted driving.  We oppose the use of electronic devices behind the wheels. Currently, no state has law that completely bans electronic devices behind the wheels. It is the only way for prevention of distracted driving crashes.
How to secure kids?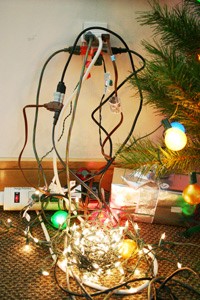 Some simple tips are enlisted that could minimize the risk of electrical injuries to kids to make sure our well known slogan "Holiday season safety" because all electrical shocks are prevent able.
Outlets covers create a barrier between exposed wires and people. If the outlet has broken or missing cover plate replace it immediately.
To protect children from shocks install tamper resistant (TR) receptacles. To cover plug slots these have special shutter and prevent little objects and fingers from going in the obstacles.
Kids have exploring nature, while doing so they put the new things in their mouth. Keep cords away from their mouths and hands to ensure be safe this holiday season.
Teach older kids how to safely plug in and unplug. By plugging in too many cords never overload the outlets. Don't yank cords from wall when it's time to unplug. It can be damaging to cord, appliance and the outlet. For kids we try to ensure be safe during this holiday season.
Electricity and water can be a lethal mix. Make sure installation of Ground Fault Circuit Interrupters (GFCIs) having a reset button in any room to protect from shock.
Checking of all cords is very necessary. Replace all the frayed cords. Taping won't be a secure side from a shock. Extension cords which are for temporary usage are prone to fraying and cracking which ultimately can lead to fore or shock.
Kids are natural explorers and especially curious and get their hands on everything. They are most vulnerable to shocks. Globally, more kids ends up in the emergency department as compared to adults due to electrical injuries. Usually these kids fall in age category of less than five. Holiday season safety is a must thing to keep in mind to avoid any kind of risk.
https://www.qldcompliancesolutions.com.au/wp-content/uploads/2018/09/Holiday-season-safety11.jpg
396
704
QLDCompliance
https://www.qldcompliancesolutions.com.au/wp-content/uploads/2020/07/QLD-Compliance-Logo-wText-300x144.png
QLDCompliance
2016-10-21 12:48:19
2018-09-03 12:52:29
Holiday season safety, Be safe!